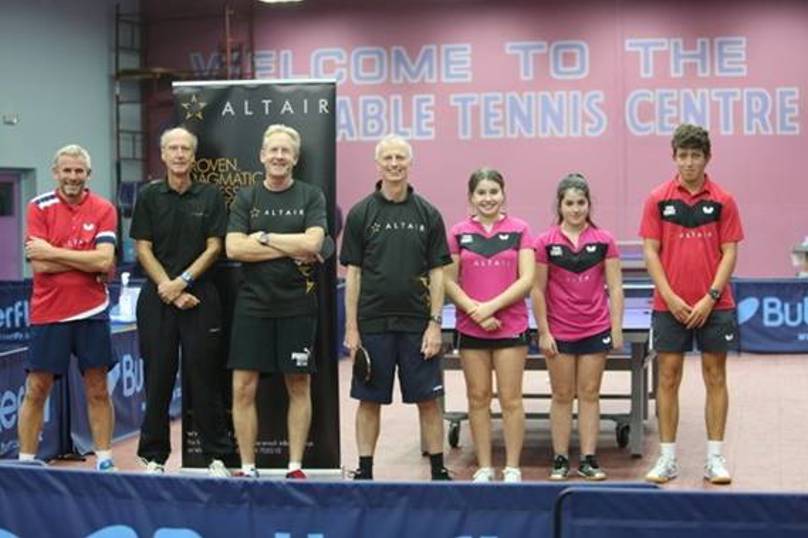 Free Table Tennis for Jersey School Children
PRESS RELEASE
Table tennis in Jersey has received a boost from a new three year sponsorship deal agreed with Altair Partners, which will enable the Jersey Table Tennis Association (JTTA) to provide free table tennis lessons to school children and to build a strategy to raise awareness of the sport to a wide range of school children.
The agreement for the "Altair Junior Table Tennis Academy" covers the next three seasons, which will provide free table tennis for school children three times each week during term time.  This busy schedule will also allow the JTTA to hold regular school competitions throughout the year. The JTTA will also aim to hold an Altair Open Table Tennis Day for adults, juniors and families, as part of its drive to open the sport up to as many people as possible. 
The sessions will be held during term time as follows:
Monday 4pm – 5pm
Thursday 4pm – 5pm
Saturday 12.15pm – 1.15pm
Paul Routier of the Jersey Table Tennis Association said, "We are thrilled to have received this endorsement from an institution of the calibre of Altair Partners. Altair has an excellent reputation on the Island for supporting local sport and other worthwhile causes.  Our intention is to focus on increasing junior numbers, getting students to master the basic techniques and, most importantly, enjoy the sport. We have a great record of nurturing talent on the Island and this sponsorship will enable us to develop the next generation of talented players.
Nick Taylor of Altair Partners commented, "We are very pleased to announce this partnership with the Jersey Table Tennis Association to sponsor the Altair Junior Table Tennis Academy. Jersey table tennis has an established history of encouraging people of all ages and abilities to take up and enjoy the sport. We look 
forward to assisting the Academy in attracting the next generation of table tennis players in Jersey, in addition to developing the current elite juniors on the island.
If you are interested in taking part in this free table tennis initiative, please feel free to e-mail martintupper.jtta@gmail.com .
Finally, if you would like to keep abreast of what is happening at Jersey table tennis please feel free to follow us on the following social media channels.
Facebook: Table Tennis Jersey
Twitter :  Table Tennis Jersey (@officialJTTA).
Website:  www.tabletennisjersey.com
Paul Routier MBE
President, Jersey Table Tennis Association